Update- March 18, 2018 – Final Inspection set for April 13-15, 2018!
Update – February 28, 2018 – It looks bigger with the doors on! Getting close now.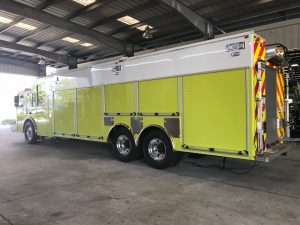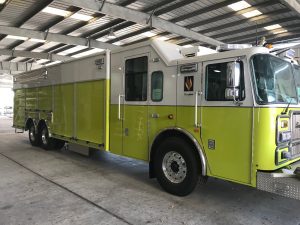 Update – February 22, 2018 – Things are moving along now. Tentative final inspection date is looking like mid April. More to come.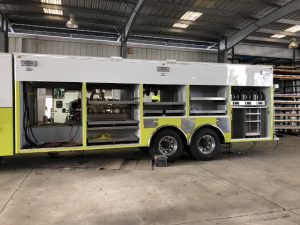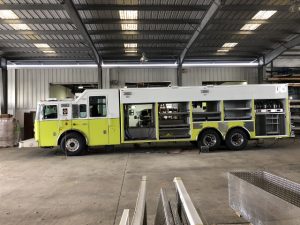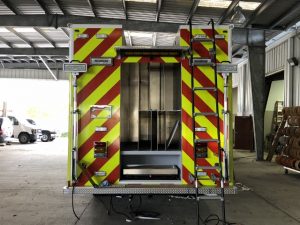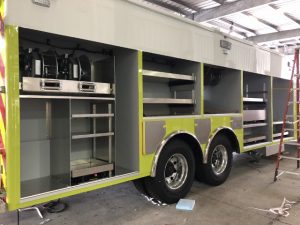 Update – November 14, 2017 – Body set on the frame, mid-construction trip set for next week. She will be home soon!
Update – September 11, 2017 – The chassis and body survived hurricane Irma. Thanks to the staff at EVI for keeping her safe!! Mid construction trip is scheduled for early November.
Update – August 24, 2017 – Cab and Chassis arrived safely in Florida.
Update August 6-8, 2017 – Final inspection at Seagrave. A few punch list items to be rectified, shipping to EVI in Florida next week.
Update July 26, 2017 – Cab and chassis mating to the frame rails is partially completed, should be complete this week.
Update July 18, 2017 Cab and Chassis final inspection scheduled for August 7,8. Body framing is complete see updated pictures.
Update – July 10, 217
June 29, 2017
The first construction pictures of the new Rescue 56 are coming in. Stay tuned for more developments as they happen.