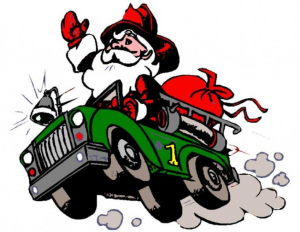 On Friday evening, December 20th Santa will be visiting the neighborhoods off of JFK Boulevard and DeMott Lane. Santa will be leaving the firehouse at 5:30 PM and proceeding first to Stratford Place and London Place, then across DeMott Lane to Ellison Road. Santa then heads north on DeMott Lane and then travels down New Brunswick Road and JFK
Boulevard to Webster Road, Landry Road, Tripplet Road, Summerall Road, Hughes Road, Vince Court, Larsen Road, Renfro Road, Rosewood Court, Chandler Road, and Sherman Circle.

Safety is Santa's top priority and because of that he can not stop on DeMott Lane, JFK Boulevard, Cedar Grove Lane, and New Brunswick Road. If you live along these roads, please feel free to join Santa on one of the many other streets he visits during his tour.
On Saturday afternoon, December 21st, Santa will be leaving the firehouse at 1:30 and visiting the Avalon Somerset neighborhood. After a well deserved break, Santa will be heading out again at 3:30 PM and proceeding to Wexford Way off of Cedar Grove Lane. From there he visits Stone Leigh Way, Dartmoor Drive, Brenner Road, Rue Cezzane, Rue Matisse, Monet Court, and Renoir Way. Santa then heads down Treptow Road and Martino Drive to visit Eton Way, Steeplechase Court, Barclay Court, Gloucester Drive, and Canterbury Circle. Santa then heads north on DeMott Lane to visit Emerson Road, Fairfield Road, Deerfield Road, and Academy Road. Unfortunately, Santa's sleigh is too big to drive down Richmond Drive, Cambridge Lane and Bedford Road. Residents of these streets are asked to walk down to Emerson Road or Academy Road to visit with Santa. The last stop of the evening for Santa will be the Eastern North neighborhoods of Eastern North Drive and Oakcroft Lane.

On Sunday, December 22nd, Santa will be leaving the firehouse at 4:00 PM and heading up Hollywood Avenue towards Dellwood Lane. From there, he will visit Rue Chagall, DiVinci Court, and Picasso Court. He then heads back onto Dellwood Lane and heads down Willow Avenue to 4th Street, turns and heads up Walnut Avenue to 13th Street, turns and visits Culver Street to 1st Street, turns and heads to the entrance to Lakeside Court. Unfortunately, Santa's sleigh is too big to drive down Lakeside Court so residents wishing to visit with Santa should walk down to 1st Street. From there Santa visits 2nd Street and then onto John E. Busch Ave before heading off again to the North Pole.

Every year we are honored to escort Santa around our neighborhoods. Sometimes fires or other emergencies or weather cause us to have to alter our schedule. We ask for your patience while you wait for Santa.