Car 56
2018 Chevrolet Tahoe
Command Console
Car 56-2
2018 Chevrolet Tahoe
Command Console
Engine 56-1
1998 Seagrave J Cab
Stainless Steel J Cab
Aluminum Body (2nd every produced by Seagrave)
1500 GPM Hale Single Stage Pump
500 Gallon Water Tank w/ 30 gallon Class B Foam
370HP Cummins M11 Engine w Allison World Transmission
15K Harrison Hydraulic Generator
Telma Electro-Magnetic auxiliary braking device
150′ 220v Cord Reel
1500′ of 5″ hose
95 GPM Foam System
Engine 56-2
2003 Seagrave TE Stainless Steel
Aluminum Body
1500 GPM Hale Single Stage Pump
1750 Gallon Water Tank w/ (2) 20 gallon foam tanks
450HP Cummins M11 Engine w Allison World Transmission
10K AMPS Hydraulic Generator
Jacobs Engine Brake
150′ 220v Cord Reel
1000′ of 5″ hose
1000 GPM Hale A/B Foam System
Dual Ladder Racks w/1 1500 gallon Fold-a-Tank
This vehicle also serves as the backup for Rescue 56 and carries 1 Amkus Spreader, Cutter, Dual-Simul Power Unit, 2 Milwaulkee Sawz-alls, oxy/acetylene cutter, and cribbing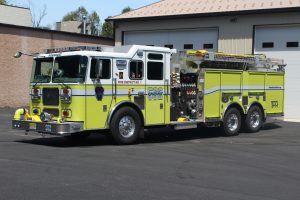 Rescue 56
2003 Seagrave TC / Marion Body
450HP Cummins M11 Engine w Allison World Transmission
43K Magnum PTO Generator
Transmission Mounted Auxiliary Brake
(2) 150′ 220v Cord Reel
Amkus Ultimate hydraulic rescue tool system (which powers (4) 200′ hydraulic tool reels simultaneously)
(3) Bottle 6000psi breathing air system with (1) 150′ high pressure breathing air reel and (1) 150′ working air reel
9,000w Wil-Burt light tower
11,000 watts of truck mounted scene lighting
12,000# front mounted winch
8,000# portable winch which can be mounted in the rear or at each side over the rear wheels
The rear and side receivers also function as remote anchor points
Rescue 56's body is constructed with many specialized compartments such as:
A large full width sliding tray which is accessible from both sides of the vehicle
A large sliding tool board & Numerous sliding and drop down trays
A large insert compartment in the rear that extends in to body up to the front rear axles
4 large coffin compartments on the roof
6 under body cribbing compartments
A floor to ceiling roll-up compartment in the rear cab for safe tool storage
(2) Front bumper compartments for tow chains and straps
Rescue 56 carries a wide variety of technical rescue equipment:
(8) Amkus tools
(1) gas powered Amkus dual simul pump
(1) electric 2-tool pump
Assorted Amkus accessories, tips and chains
(5) Milwaukee Saws-Alls
(4) Rescue Jacks
(2) Hi-Lift manual jacks
145 ton Paratech high pressure air bags
(2) Paratech medium pressure air bags
(1) Lampe 3 bag set low pressure high lift air bags
Large dimension cribbing
Long length lumber
Fin-Form trench panels and ground padding
Trench/Collapse supplies and PPE
Paratech air struts
Paratech Air Gun 90
Milwaukee electric pavement breaker
1200′ breathing air hose
Air Cart
(5) confined space entry sets
Tripod
A large cache' of hand/air/electric tools and assorted heavy duty large dimension sockets and wrenches
High/Low angle rescue equipment
(2) Partner saws, (3) chain saws (1) concrete saw
(1) Petrogen gasoline torch
(1) Arc-aire exothermic torch
Medical equipment and AED
(2) Bullard TIC
(2) Scott multi-gas meters
Ludllum radiological survey meter
RIC equipment
(2) Stokes baskets
Assorted ladders and pike poles
Special Operations Unit
2015 Freightliner/KME
16′ All aluminum body construction
450 hp Detroit DD13 engine/ Allison automatic transmission
Wil-Burt 15′ high power LED light tower
Inside seating for 7 crew members
Numerous roll-out trays and custom cabinetry
20k hydraulic generator
LED scene lighting around the body
Full body armless awnings each side
Front and rear portable winch ports

Van 56
2009 Chevrolet Express Transport Van
The 2009 Chevrolet Express transport van is used primarily for transportation to training events and other company functions.
It also responds on all special response incidents to tow our various technical rescue trailers and other apparatus.
Marine 1
2000 Zumro
19′ Zumro dive through rescue boat
60HP Mercury outboard 4 cycle motor
Multiple radios for multi-juristictional communications
Marine 2, 3, 4
Zodiac MilSpec (M2,M3) and Avon model FRB 380 inflatable crafts and are varying in age from 1992 to 2010
Powered by Mercury outboard motors
Marine 2 and Marine 3 on a new custom made double-decker trailer
Marine 4 resides in SO56 and can be deployed from that vehicle
Technical Rescue Trailer
This 20′ x 8′ dual axle trailer is fully equipped with
advanced interior lighting
22,500k portable generator and assorted scene lighting
This trailer is also equipped with a complete Paratech trench rescue kit and and a Paratech structural stabilization kit
Special Operations Trailer
2000 Pace American
12′ x 6′ Pace American utility trailer which is used for de-watering operations
(2) 1500w mounted scene lights
It carries the following equipment:
(1) Guardian 15,000w gasoline generator
(1) Hale 5,000w gasoline generator
(1) 5,000w Winco gasoline generator
(1) 3′ Homelite gasoline driven pump
(1) 1.5′ Northern Tool gasoline pump
(6) electric pumps
(1) Honda 500w generator/light
Numerous portable tripod and portable lights and extension cords and reels
Contaminated water PPE
Pop-up canopy
S056 was designed by our membership to respond and operate as a self-sufficient unit to reduce the need for the fire apparatus to respond and remain on the scene of de-watering operations. It's exceptional electrical power output capability also used at fire scenes and other incidents to assist in long duration non-emergency scenes where electrical support is needed.